p2 tip of the week: How do I get my feature branding back?
You may have noticed that feature brandings disappear if you get rid of all the update manager stuff and just use p2 (version 3.4.1). The solution to get the feature brandings back is quite simple: Deploy org.eclipse.update.configurator with your RCP application. But that's not quite enough. Since org.eclipse.update.configurator is activated lazily, just invoke a static function, e.g.
ConfiguratorUtils.getCurrentPlatformConfiguration() in the startup phase of your application. Or, if you don't want to have dependencies to org.eclipse.update.configurator, just call Platform.getBundle("org.eclipse.update.configurator").start() (Thx Tom :)). The picture below shows the About dialog with feature brandings of my current MP3 Manager. The application was created during a headless build, using p2 director to create the executable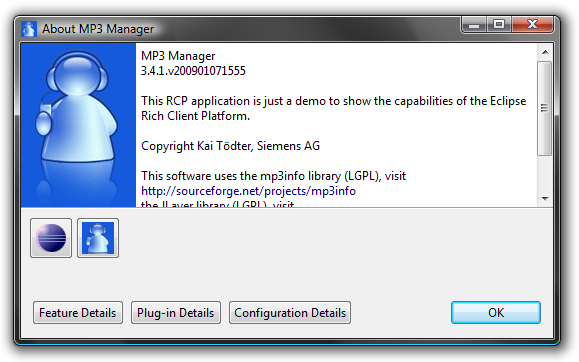 Have Fun!
Kai