Recently I contributed my e4 contacts demo to the e4 (e4 = Eclipse 4) cvs repository. Goal of the demo is to give good examples for e4 RCP related topics, like
CSS based styling and theming
Modeling the application UI skeleton
(menu, toolbar, parts, commands, handlers, …)
Data binding everywhere
Product branding (not started yet)
Co-hosting using p2 (self-update, not started yet)
Here is a screenshot of the application using a dark css based theme: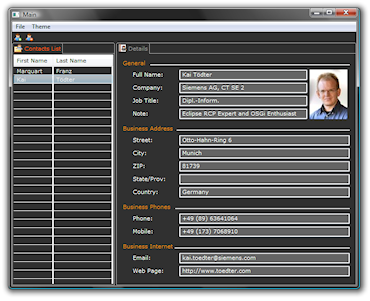 And here the same application using a brighter css based theme: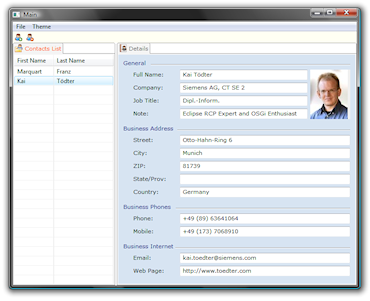 The styling is pretty simple right now, I will enhance it using textures and gradients as soon as these features are implemented. The next screenshot shows the EMF based UI model of the application (workbench) skeleton: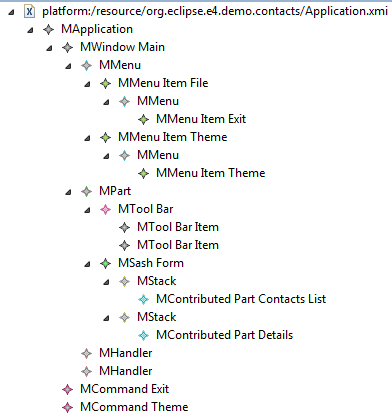 Modeling the application workbench UI like this is very easy and straight forward. Rather than dealing with complex layouts programmatically or using extension points you can get a decent application skeleton quickly.
How to get and run the demo?
Install the latest Eclipse 3.5 SDK (currently 3.5RC1)
Install the latest EMF SDK
Open the cvs repository:
host:dev.eclipse.org
root:cvsroot/eclipse
user:anonymous
Check out the project e4/releng
Import the following team project sets
form releng/org.eclipse.e4.ui.releng:
e4.ui.psf
e4.ui.examples.psf
e4.ui.css.psf
After having imported all the necessary projects from cvs, open project org.eclipse.e4.demo.contacts/contacts.product
In the Overview tab of the configuration editor, click "Launch an Eclipse Application"
Now the contacts demo shoud start with the dark css theming
Have Fun!
Kai