e4: Animated Splash Screen Experiment
Recently I started playing around with the great Trident animation library (by Kirill Grouchnikov). Boris Bokowski was so kind to provide a bundle-fied version of Trident in the e4 repository, so I could integrate it easily into my e4 Contacts demo. The first thing I wanted to try out was to animate the splash screen. Since the new year has just started, I integrated the Trident fireworks demo with very few modifications. Since e4 has no SplashHandler support (yet :)), I hacked the start up of the E4Application class a bit and inserted a new SWT Shell, running the Fireworks animation.
I have created a little screen capture animation how the start up of the e4 contacts demo looks with animated splash screen. Click on the picture below to start the animation.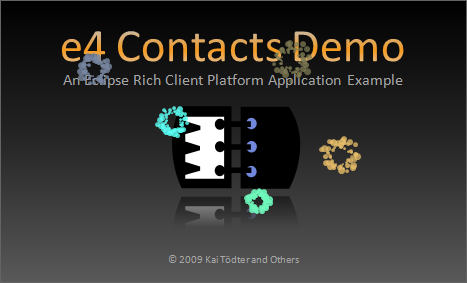 Have Fun
Kai