Monthly Archive for: 'April, 2010'
After upgrading to WordPress 2.9.2, my Eclipse related blogs did not appear at Planet Eclipse anymore.  If you see this post at Planet Eclipse, then it is working again 🙂
Next week JAX 2010 starts in Mainz, Germany. As always, the program is great and there are many Eclipse and OSGi related sessions. This year I give two sessions:
For the OSGi session I updated my dynamic Swing demo to the latest versions of Equinox, DS, Spring DM and iPOJO. You can test-drive the application with Java WebStart.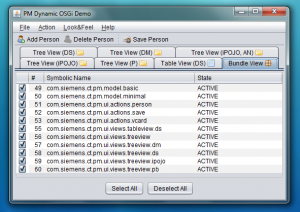 I look forward to seeing you at JAX 2010!
Kai 🙂
Follow me on Twitter
I would like to thank everyone who attended my sessions at EclipseCon for the feedback. The bucket-feedback was (+1/0/-1):
Advanced Eclipse Rich Client Platform
(together with Ben Pasero): 51/9/0
What's new in e4 CSS Styling?: 11/2/0
e4 – Anatomy of an e4-Application
(together with Tom Schindl and Lars Vogel): 74/6/0
I am very happy with the feedback, especially with some of the comments :):
"Excellent for content, depth, detail and presentation."
"Great session! Easily the best so far"
"Great Presentation No delays for configuration"
"BEST OF CONFERENCE"
This motivates me so much that I plan to submit "Reloaded" versions of the tutorials for EclipseCon 2011!
@Tom, @Lars, @Ben: What do you think?
@Chris, when are you planing to open the submission system?
Have Fun