Monthly Archive for: 'February, 2011'
Yesterday I released version 3.6.2 of my Eclipse RCP demo "MP3 Manager". You find all information at the project page.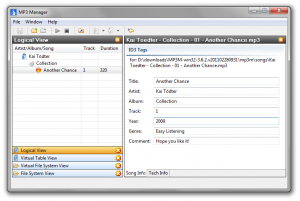 What's new in version 3.6.2?
Now based on target platform Eclipse 3.6.2
New target definition project

See project com.siemens.ct.mp3m.target

Fixed PDE build, based on 3.6.2 (Bug 327706 is fixed!)
New Tycho based build

See project com.siemens.ct.mp3m.tycho (the tycho product build)
See project com.siemens.ct.mp3m.tycho.parent (the parent pom)

Minor code cleanup
You can download the latest sources and the win32 binaries (including a demo song played by myself) here. The Tycho based build results for win32 and Linux (not including demo songs) you find here.
As soon as Tycho support rootfiles in features (planned for version 0.11.0 of Tycho) I will also include the demo songs in the Tycho build.
Since MP3 Manager is a demo, I plan to support both PDE builds and Tycho builds in the future.
Have Fun!
Kai
In the next months I am going to give some Eclipse e4 related tutorials and sessions on the following conferences: EclipseCon 2011 in Santa Clara (USA) and JAX 2011 in Mainz (Germany). I am looking forward to attending both conferences, they are always inspiring and fun.


The EclipseCon tutorials are:


The JAX sessions are:
At JAX, I am also planing to give a session about "Dynamic Web Applications with Equinox and Vaadin". If you plan to attend any the above sessions, I would be happy if you join me afterwards for a chat.
Have Fun!
Kai