Recently I worked a bit on my Eclipse 4 Application Platform Tutorial. The good news for you: The slides are now licensed under a Creative Commons Attribution 4.0 International License.

If you find useful stuff in the slides that you would like to re-use for talks, trainings or even for commercial use, you could do that now. You find the current slide deck either on my Web site or directly at SpeakerDeck. The corresponding source code is hosted at my GitHub repository and licensed under EPL. Here is a screenshot of the little app developed in the tutorial.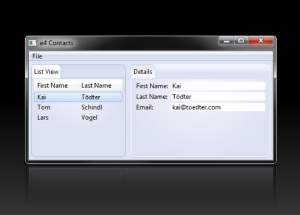 The slides as the sources are valid for both Kepler and Luna.
If you find outdated/strange/wrong things in the slides, please let me know :).