Monthly Archive for: 'July, 2011'
After 2 years I released a new version of my free Java date picker JCalendar. You find the download, demo and documentation of the stable release and the current integration build at the project homepage. Here are the new and noteworthy things:
Buttons for "Today" and "No Date"
JCalendar provides 2 new methods for setting the "Today "button and/or "No Date" button visible. These 2 buttons are localized by default, but you could set your own labels if you don't like the default translations.
Date Evaluators
With the interface IDateEvaluator you can add evaluators that decide if a date is special or invalid. Invalid dates can not be chosen. Both, special and invalid dates can have specific foregrounds and backgrounds. In the picture below, day 4 and 5 are invalid and day 6 and 7 are special. The special days can provide a tooltip that indicate why they are special.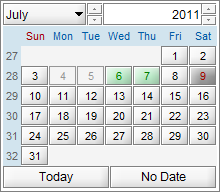 Look & Feel
Now JGoodies Looks 2.4.1 is included. The demo now uses different font for the Plastic Look & Feel so that unicode characters are displayed correctly. Also Nimbus Look & Feel is supported better.
Fixed Bugs
– Bug in focus handling fixed
– Bug when selecting last day of a month and then change the month fixed
Have Fun!
Kai
You find me on Twitter and Google+.
If you are interested in in-house Eclipse RCP training,
please contact me…
I recently updated my MP3 Manager Eclipse RCP demo to version 3.7.0.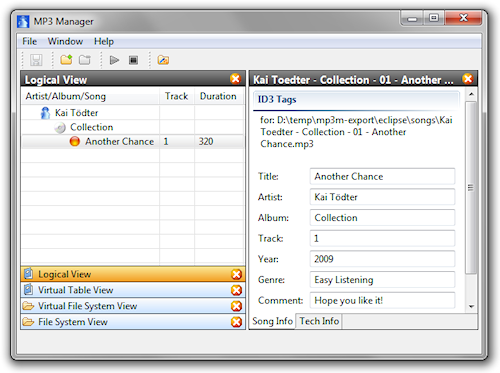 These things are new:
* Java WebStart support (launcher see below)
* New target platform Eclipse 3.7.0
* Integrated Tycho 0.12.0 build
* 3.7.0 compliant headless p2-enabled build
* 3.7.0 target definition project
The binaries, sources, svn access etc. you find at the project home page.
You can launch the demo directly with the launch button below using Java WebStart, but a few restrictions apply:
* p2 does not work well together with WebStart and is not included
* Restarting the client using the dynamic language switcher does not work
* No demo song included

Have Fun!
Kai