Today I read in the e4-dev mailing list that css styling now supports gradients (Thanks Kevin, Angelo and others!). I could not resist to try it out in my e4 contacts demo. Here is the result: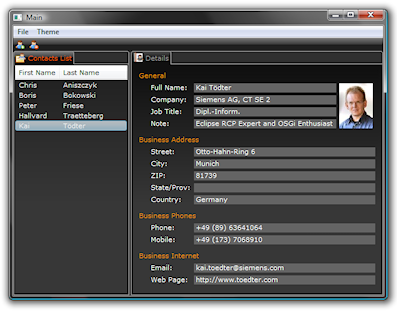 The css gradient definitions are quite simple:
For the composite: background-color: #101010 #373737 60%;
For the toolbar: background-color: #777777 #373737 #202020 50% 50%;
One little trick to get the labels having transparent background is to invoke setBackgroundMode(SWT.INHERIT_DEFAULT) on the current shell.
Instructions how to get and run the demo you find here.
Have Fun
Kai